Noosa Everglades Truly Sustainable Kayak Tours
With Kanu Kapers you can experience truly sustainable guided and self-guided Noosa Everglades kayak tours. The pristine Noosa Everglades is a stunningly beautiful water wilderness, bursting with rare wildlife and therefore best experienced by paddle, leaving only little ripples behind as you glide gently by.
Self-guided tours offer the opportunity to  tailor-make your own experience with the help of an expert guide and  set off on your own unique adventure.
Guided tours are lead by an expert guide and are fully catered with delicious, fresh produce.
One Day, Half Day or Overnight Tours are fully equipped by us for a total escape and night under a blanket of stars.
Highlights: * abundant rare wildlife* sub-tropical rainforest * river of mirrors * swim in the therapeutic waters * panoramic views * * family owned * award winning *
The Noosa Everglades
Hidden within the Cooloola section of the Great Sandy National Park is one of the Sunshine Coast's best kept paddling secrets, the Noosa Everglades. Best explored by canoe or kayak, the upper reaches of the Noosa River and the Everglades represent an ancient waterway that has existed unchanged for thousands of years.
Kanu Kapers offers half, one, two and three day guided and self guided tours in our easy to paddle and stable sea kayaks. A kayak tour into the Noosa Everglades is an inspiring day out among some of the most spectacular scenery you will find any where in the world. Kayak hire is simple with our sleek, modern, comfortable expedition sea kayaks.
The Noosa Everglades are situated within Noosa Biosphere, Queensland's first UNESCO Biosphere promoting harmony between people and nature through education, conservation and sustainable activities. The Noosa Biosphere Reserve encompasses 150,000 hectares of land and sea in which you can investigate the diversity of our eco-systems and culture.  A wetland of international importance, it is the only river system in Australia that has its entire upper catchment protected in National Park.
View our latest kayaking tips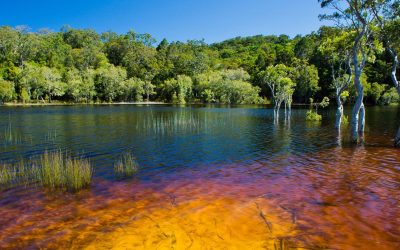 Poona Lake, nestled in the stunning Noosa Everglades and sacred to the Kabi Kabi first nation people, has been earmarked for development. We are fighting to save Poona Lake, Cooloola in the Noosa Everglades. If you have enjoyed the Noosa Everglades, you will...
read more