White Water Canoe & Kayak Adventures
4 Day White Water Canoeing
This 45km White Water Canoeing Adventure on the Nymboida River is a great opportunity for those with good physical fitness who are looking to try something new or if you have some experience and would love to learn more in a friendly and non competitive environment or if you simply love the outdoors!
Guided by Australian Kayaking Champion, Vivienne Golding, learn how to paddle your own canoe in grade two white water rapids, experience the exhilaration of canoeing down a wild and remote river, camping beside a gently flowing stream and enjoying delicious healthy hearty meals.
On a Kanu Kapers white water adventure our professional guides are passionate about sharing white water canoeing, nature and wildlife experiences and participants safety during the trip is our first priority.
Nymboida – Mann River, NSW
Located approximately 52km west of Grafton, NSW, the Nymboida River hosts some spectacular scenery and awesome experiences just waiting to be enjoyed. With granite gorges and rainforest lined banks. Our journey would take us on mostly grade I and II rapids.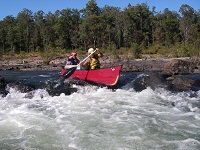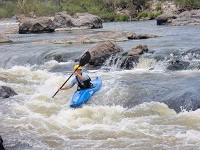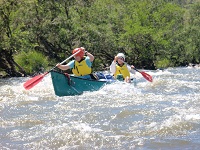 Trip Details
Duration:
4 Days. 9.00am Day 1 to 3.00pm Day 4
Inclusions:
Canoeing Equipment and Camping Gear. Professional Guide. Catering from Morning Tea on the first day to Lunch on the final day.
Highlights:
Grade I and II white water rapids, wilderness canoeing in the Nymboida National Park, unique adventure, camping beside a pristine waterway, discovery of an ancient landscape featuring 'dramatic granitic rock formations, including outcrops and balancing tors' (NSW National Parks and Wildlife Service).
Itinerary:
Meet at Jackagery at 9.00 am on the morning of the first day. From here the group will make its way to the launching site on the Nymboida River where the canoes will be loaded up with equipment and food, followed by thorough tuition and training on canoeing and white water safety.
Disembarking for the adventure of a lifetime, the group will paddle downstream, following the flow of the Nymboida River through ancient volcanic gorges of granite rock. Testing skills and physical fitness through white water rapids whilst taking in the splendor of the landscape.
Stopping over night beside the river is a mystical experience; spend the evening stargazing into the heavens and awake to a magical foggy morning.
The trip continues in this way; immersed in the wilderness of the Nymboida River until the finishing point is reached in the afternoon of the final day.