Multi Day Kayaking Safari in the Noosa Everglades Information Blog.
As experts in the field of Kayak adventures in the Noosa Everglades we are often asked for suggested itineraries and advice on where to camp, so this informative blog should answer all or at least most of your questions. If your questions are not answered feel free to give us a call or check out our website www.kanukapersaustralia.com
HAPPY ADVENTURING!
So you are heading to Noosa and you are looking for one of the best adventures Noosa has to offer. A multi day camping adventure in the Noosa Everglades by kayak is an experience many people have on their 'bucket list'. This is a Noosa Everglades Experience Kanu Kapers Australia specialises in making memorable, comfortable, adventurous and fun! The Kanu Kapers team ensure you head off on your multi day kayak adventure well equipped to experience one of the most pristine wetland areas in the world. This is a wilderness experience so you will be well equipped in one of our beautiful fibreglass and locally crafted expedition sea kayaks. This will allow you to experience all the highlights of the Noosa Everglades and with plenty of room to stow those essential items you want to take on your kayak and camp adventure.
Image by Lachlan Gardiner
How Many Days-2,3,4 or more?
2-3 days
In our fast paced world people don't seem to have as much time available. Kanu Kapers Australia offers 2 or 3 day wilderness kayaking experiences in the Noosa Everglades. Both of these Noosa Tours are popular. An advantage of a multi day tour is you can take your time to explore the beautiful Noosa Everglades system by kayak. Another feature of the multi day adventure is the awe inspiring Cooloola Sand Patch 12 km return walk. If you only have 2 days and a reasonable level of fitness you can camp close to the base of the walk and enjoy the walk late afternoon on day 1 or early morning on day 2. If you have the luxury of 3 days which we recommend you can paddle to your Noosa Everglades wilderness safari campsite at a relaxed pace and set up camp, chill out, cook dinner and relax while you enjoy a beverage of choice and marvel at the stars reflecting in the River of Mirrors, a highlight of your adventure tour in the Australia's beautiful Everglades system.
4 or more days
Since the COVID19 pandemic and lockdown people seem to be enjoying taking a bit more 'time out' so our 4 day adventure has become more popular allowing our guests to paddle a bit further and enjoy one of the more remote wilderness campsites such as camp 5, 8 or 13. Did you know there are actually 11 Campsites along the 25 kym stretch of river and once you paddle past camp 3 (which is at the base of the Cooloola Sand-patch walk) there are no motor boats allowed so it is secluded and peaceful and feels like another world.
Which Campsite is Best?
Well it really depends how much time you have. If you have two days we recommend Harry's Hut, camp 1 or camp 2. Harry's Hut is a large public camp site which has river frontage and is approximately 2 hours paddling from our launch area at Elanda Point. If you like to be around other people this Noosa Everglades campsite may be for you. If you like privacy Camp 1 & camp 2 are more secluded campsites which you would have to yourself. Camp 1 has a lovely jetty so you can enjoy your meals sitting on the river. Camp 2 has a logged area which is a custom built kayak landing and sitting area on the river. All campsites up to camp 3 have composting toilets. Camp 3 is a larger campsite, has 2 jetties and can accommodate up to 25 people. Camp 4,5,8, 9, and 15 are beautiful remote wilderness sites where often you may not see another person except the occasional kayaker.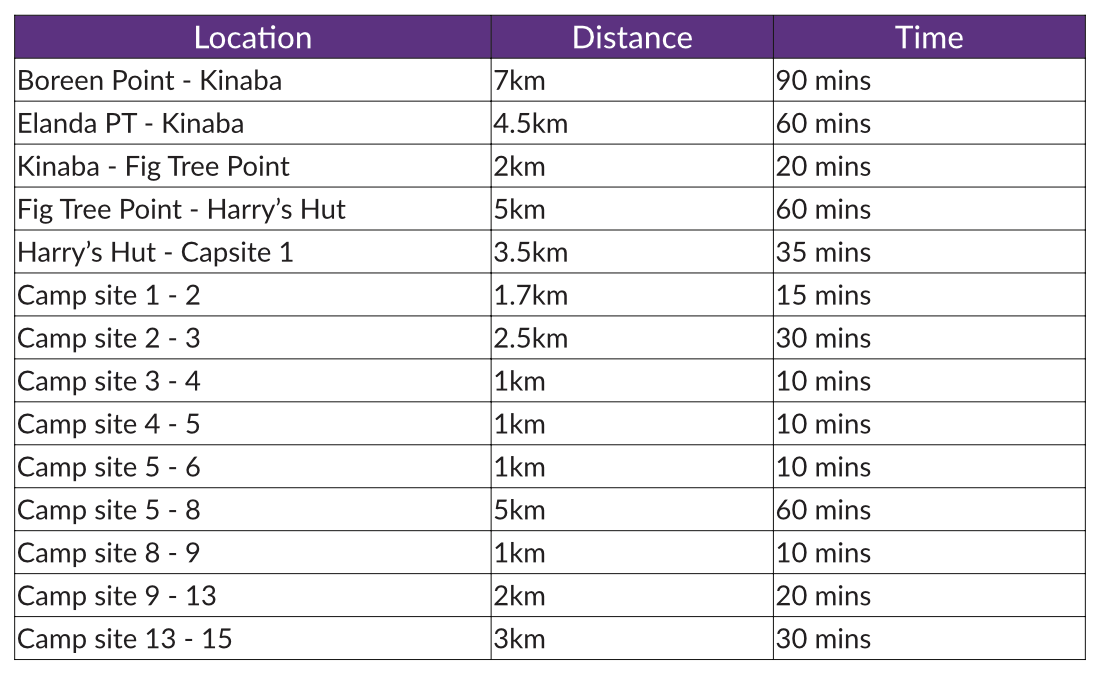 Noosa Everglades Paddling distances
Below are some photos of three different campsites. Please note there are no rubbish bins so what you carry in you need to carry out. There is also a total fire ban so we provide Trangia cookers and pots.