If you're seeking an educational or school camp experience that stands out from the rest, young people will have a unique and truly sustainable experience with Kanu Kapers. Our Noosa Everglades school camps promise to leave a lasting impact and fun memories to last a lifetime!
We have been offering educational programs to primary and secondary schools, universities, and international students in South East Queensland since 2002 – and feedback consistently tells us that we know what we are doing!
Kanu Kapers is dedicated to blending fun, adventure, and personal growth through wilderness expeditions customized to suit your group's preferences and objectives.
Read on to find out more about our unforgettable journeys of learning and discovery!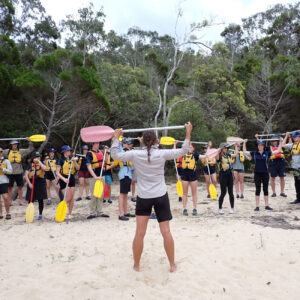 About Kanu Kapers School Camps
We use an experiential learning methodology, creating unique and challenging experiences where participants learn about themselves, others and their environment. We believe our water wilderness adventure camps inspire young people in ways that are not possible at home, school, or through traditional sports.
Our Noosa Everglades school camps immersion allows participants to step out of their comfort zone and work together as a group, improving confidence, independent thinking, friendships and providing leadership opportunities. Children feel a huge sense of achievement after our action-packed tours which we believe provide a profound experience with lifelong learning.
2-5 Day School Camp Programs

The Noosa Everglades Wilderness Kayak, Camping and Hiking experience can be 2, 3, 4 or 5 days.
Departure for Noosa Everglades School Camps
We meet up and depart from our pretty lakeside launch site near the village of Boreen Point and travel through Cooloola National Park and the Upper Noosa River. This whole area is classed as the Noosa Everglades. It is the gateway to the Great Sandy National Park which stretches up to Fraser Island – the largest sand island in the world!
Our embarkation point is just 30 minutes from Noosa and 90 minutes from Brisbane. Sunshine Coast airport is a 45 minute drive with regular flights throughout and beyond Australia.
Which activities are included in Kanu Kapers School Camp Programs? 

We aim to tailor-make your Noosa Everglades school camp to ensure you get the most from it.
Activities may include: 
Kayaking and navigation through the ancient waterways
Hiking the Cooloola Sandpatch, experiencing magnificent flora and fauna and 360 degree views of the hinterland and ocean
Wilderness Camping – setting up camp and cooking as a group
Hiking in the wilderness
Swimming in the tea tree infused waters
What's Provided by Kanu Kapers?

We have a range of school camp programs to suit your requirements and budget. Full package options are fully catered and equipped, whereas other options are not catered and include full equipment hire and one expert guide. There are four programs to choose from.
Kanu Kapers School Camp Program Options
Full Package – Catered:
This package offers a comprehensive experience. It includes kayak equipment, camping gear, expert guides, and all meals. You'll have everything you need for your awesome adventure.

Non-Catered Package:
This package provides essential components for your trip. It covers kayak & cooking equipment, camping  gear, and expert guides. Food is not included in this package.
Equipment & Guides:
For those seeking flexibility, this package includes kayak & cooking equipment and expert guides. Camping gear and food are not part of this package.
Equipment & 1 Guide:
This is a tailored option featuring kayak equipment and the expertise of one guide. Please be aware that camping & cooking gear, food, and additional guides are not included in this package.

Expert Eco Guides
Our eco guides (who may be us!) are very professional and knowledgeable about the region and experienced in leading educational and sustainable tours in our natural and ecologically sensitive area. Their role is firstly to ensure the safety of your group and then to facilitate meaningful and environmentally responsible experiences while promoting conservation and awareness of the natural environment. We are passionate about the natural environment and aim to promote a responsibility to protect our planet that young people will remember forever.
On all of our tours, we ensure that visitors to the Noosa Everglades minimize their impact on the environment, follow ethical wildlife viewing practices, and adhere to leave-no-trace principles. By sharing our knowledge and passion for nature, we inspire a sense of appreciation and stewardship, contributing to the conservation of natural resources and the well-being of local ecosystems.
Check out our 5 star Trip Advisor reviews here!
Getting to the Noosa Everglades from Noosa – Self-Drive & Transfers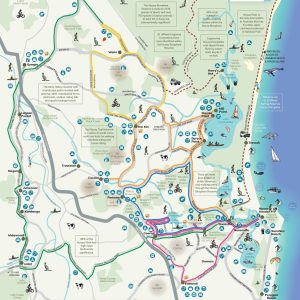 There are two options here, self-drive or Kanu Kapers Transfers.
Driving to the Noosa Everglades
(click map to download PDF)
By car, you can reach Boreen Point in just over thirty minutes from Noosa via Tewantin. It's a good road all the way and a pretty drive through forests of towering native eucalypts, as well as managed pine trees.
You'll often see kangaroos grazing along the way and this area contains habitat for koalas as well as many other rare animal and plant species.  Unfortunately, as in many regions of Australia, koala numbers are declining, mainly due to deforestation and traffic. So, please don't be tempted to go full throttle on the empty roads, you never know who might be crossing.
From Noosa – head past the marina to Tewantin then follow signs to Boreen Point.
From the Bruce Highway (Brisbane) – take exit no.237 for Pomona and Kin Kin. Drive through Pomona, over the railway line, turn left and follow the signs to Boreen Point (about 20kms). The drive to the Noosa Everglades from Brisbane takes about ninety minutes. It's pretty much straight up the Bruce Highway until you reach Pomona, then twenty minutes along country lanes and you'll be in Boreen Point.
From Boreen Point – at the appraoch to Boreen approach, take a left turn into Lake Flat Road and follow the sign – Elanda Point 5km. At 2km the road takes a shark 90 degree left turn. Turn right onto the national park road where you'll see the sign 'Welcome to Cooloola'. Drive along the road for 1.3km and turn right at the 'Canoe Launch' sign. Kanu Kapers will be waiting for you. Park up here.
Please note this last section is unsealed and there may be small pot holes, particularly after rain. So, please drive with caution – and look out for animals.
Kanu Kapers Transfers to the Noosa Everglades
If you don't have a car, Kanu Kapers offer transfers to their kayak launch site near Boreen Point. We pick up on request from accommodations and hostels around Noosa and surrounds and will drop you back after your amazing Everglades adventure. Transfers are from $34 per person and the journey takes around 50 minutes (due to pick ups etc).
Call us to arrange your transfer: 07 5485 3328
Offset Your Carbon and Help Us Raise Money for Koalas

Kanu Kapers invite guests to participate in our carbon offset scheme. The scheme offsets the carbon used on your journey from Noosa and the money goes to local charity Queensland Koala Crusaders, who use it to plant trees and maintain much needed koala habitat.
Donations can be made by donating $2.50 per person when you book your tour online. You are welcome to donate more on arrival if you are traveling further! Our bus transfer fee includes your donation.
Click here to read more about our Carbon Offset for Koalas
Don't Forget!
Protective shoes, insect repellent and sunscreen and plenty of water. Please take all litter home with you.
Links: