The Noosa Everglades feel like they are a million miles away from anywhere but the stunning region is actually located just a short drive from Noosa and a ninety minute drive from Queensland's bustling capital city, Brisbane. There's even an airport nearby with regular flights throughout Australia and beyond. We are often asked the question, "How do you get to the Noosa Everglades?" So, we thought we'd give you our travel tips to ensure that you can get to our water paradise as quickly as possible to experience the best trluy sustainable kayak tours in the world!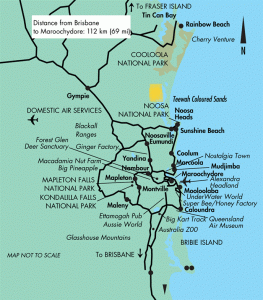 Where are the Noosa Everglades?
The pristine Noosa Everglades wetland is located in South East Queensland, just thirty minutes from Noosa on the Sunshine Coast.
It is a protected area of wetlands located in the Cooloola section of the Great Sandy National Park – the gateway to the worlds largest sand island, Fraser Island.
The Everglades are easily accessed from the pretty village of Boreen Point which sits on the edge of stunning Lake Cootharaba. This is highlighted in yellow on the map. The Kanu Kapers' kayak launch site is at Elanda Point, just a few minutes drive through beautiful woodland from Boreen Point.
Where Do the Noosa Everglades Start?
The Noosa River begins its inland journey from the ocean at Noosa's rivermouth and snakes through Noosaville and Tewantin before reaching Lake Cooroiba – about 20km up river .
The Everglades area includes the Upper Noosa River and Noosa's lakes network but the region is not specifically defined.
Getting to the Noosa Everglades from Noosa – Self-Drive & Transfers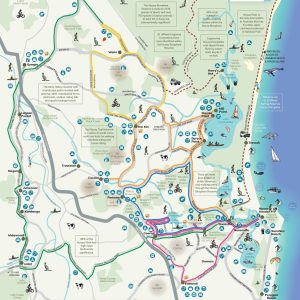 There are two options here, self-drive or Kanu Kapers Transfers.
Driving to the Noosa Everglades
(click map to download PDF)
By car, you can reach Boreen Point in just over thirty minutes from Noosa via Tewantin. It's a good road all the way and a pretty drive through forests of towering native eucalypts, as well as managed pine trees.
You'll often see kangaroos grazing along the way and this area contains habitat for koalas as well as many other rare animal and plant species.  Unfortunately, as in many regions of Australia, koala numbers are declining, mainly due to deforestation and traffic. So, please don't be tempted to go full throttle on the empty roads, you never know who might be crossing.
From Noosa – head past the marina to Tewantin then follow signs to Boreen Point.
From the Bruce Highway (Brisbane) – take exit no.237 for Pomona and Kin Kin. Drive through Pomona, over the railway line, turn left and follow the signs to Boreen Point (about 20kms). The drive to the Noosa Everglades from Brisbane takes about ninety minutes. It's pretty much straight up the Bruce Highway until you reach Pomona, then twenty minutes along country lanes and you'll be in Boreen Point.
From Boreen Point – at the appraoch to Boreen approach, take a left turn into Lake Flat Road and follow the sign – Elanda Point 5km. At 2km the road takes a shark 90 degree left turn. Turn right onto the national park road where you'll see the sign 'Welcome to Cooloola'. Drive along the road for 1.3km and turn right at the 'Canoe Launch' sign. Kanu Kapers will be waiting for you. Park up here.
Please note this last section is unsealed and there may be small pot holes, particularly after rain. So, please drive with caution – and look out for animals.
Kanu Kapers Transfers to the Noosa Everglades
If you don't have a car, Kanu Kapers offer transfers to their kayak launch site near Boreen Point. We pick up on request from accommodations and hostels around Noosa and surrounds and will drop you back after your amazing Everglades adventure. Transfers are from $34 per person and the journey takes around 50 minutes (due to pick ups etc).
Call us to arrange your transfer: 07 5485 3328
Offset Your Carbon and Help Us Raise Money for Koalas

Kanu Kapers invite guests to participate in our carbon offset scheme. The scheme offsets the carbon used on your journey from Noosa and the money goes to local charity Queensland Koala Crusaders, who use it to plant trees and maintain much needed koala habitat.
Donations can be made by donating $2.50 per person when you book your tour online. You are welcome to donate more on arrival if you are traveling further! Our bus transfer fee includes your donation.
Click here to read more about our Carbon Offset for Koalas
Don't Forget!
Protective shoes, insect repellent and sunscreen and plenty of water. Please take all litter home with you.
Links: