If you're looking for an adventurous team building activity not far from the office, a kayak tour in the stunning, remote waterways of one of just two Everglades in the world might be just the ticket! Team building in the Noosa Everglades offers a chance to escape from the crowds and connect your team or group through immersion in pristine nature… 
Nature Promotes Well-Being

The pristine waterways of the Noosa Everglades wilderness demand that you go-slow and travel mindfully, taking time to take in the beautiful wildlife and scenery around you. It's a total immersion in nature and is perfect if you want to focus on team well-being, getting away from the hustle bustle of the daily routine and switching off-grid completely.

A Team Building Experience of a Lifetime
We supply one and two-person kayaks, which means teams work together and support one another whilst having a great time on a unique team building experience of a lifetime!
Team Building Adventures – Minutes from Noosa
Although you may feel like you're in a distant land, these team building adventures are minutes from Noosa. Our base is near Boreen Point, an easy 30-minute drive from Noosa and just 90 minutes from Brisbane.

Wildlife in the Noosa Everglades
Wildlife is abundant in the Noosa Everglades. Expect to see black swans, pelicans, cockatoos, goannas, kangaroo and many more graceful beasts lining the riverside as you paddle on by.
Recommended Tour Types for Groups & Team Building
We recommend both 1-day kayak tours and  overnight kayak tours for groups and team building, depending on how far you want to paddle and how adventurous you want to be! Our 1-day kayak tours are catered with delicious, fresh local produce and great fresh coffee and our overnight kayak tours are fully equipped for a night or two under the stars.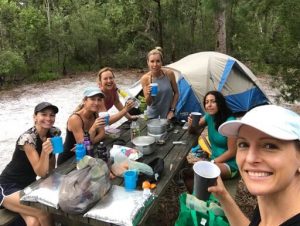 At the end of a one day team building kayak tour, choose to return to a comfortable hotel or escape on an overnight kayak tour, unplug completely and soak up the night sky at your remote wilderness campsite. This is team building in the Noosa Everglades to the max!
Team Building Weekends in the Noosa Everglades
If you're looking to do a weekend away, in addition to our fully equipped overnight kayak tours, we recommend the following accommodation in the Noosa area to package with our one day tours:
Accommodation: RACV Noosa, South Pacific Resort, Flashpackers Noosa (backpackers)
Our Promise
We promise to deliver a world class wilderness experience not far from home.
Our Awards
We have won numerous awards and are in the TripAdvisor Hall of Fame, Winner of the Queensland Adventure Tourism Award for Ecotourism and have Advanced Eco Tourism Certification
For more information or to book a tour go to our groups web page.
or give us a call on 07 5485 3328
Corporate Team Building Packages: Kanu Korporate
The Noosa Everglades are part of the Noosa Biosphere Reserve, a status given to the region by UNESCO.