So, what are truly sustainable kayak tours? Until three years ago, owner/ operators Vivienne Golding and Kym McGregor did not really shout about their sustainable business credentials, they simply considered them to be the natural way to operate. However, writing a (successful!) business award submission in 2018 opened their eyes to the fact that they were doing something exceptional and that some clients were booking their tours because they wanted to visit the Noosa Everglades in an environmentally responsible manner.
So, Kanu Kapers relaunched the company as 'Truly Sustainable' Noosa Everglades, created a carbon offset scheme to raise money for koalas and started shouting about their numerous sustainable practices.
Carbon Offset – Raising Funds for Koala Habitat
 In 2019 Kanu Kapers launched a carbon offset scheme to raise money for koala habitat. Clients are asked for donations to offset carbon from their car journey to the kayak launch site. This raises much needed funds for koala habitat in partnership with local charity Queensland Koala Crusaders. To date, they have raised over $2,300. At $10 a tree, that's a lot of trees!
Click link below for more details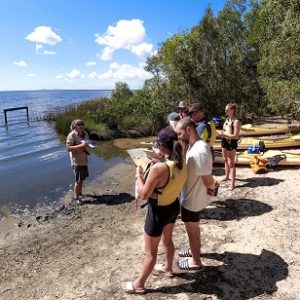 Spreading Sustainability – On a 'Truly' Globally Scale 
Kanu Kapers is family owned and operated and aims to employ guides from the local area, who care for the environment. Client briefings are thorough and there is no denying the truly sustainable environmental message. Tours begin at the stunning lakeside kayak launch sight with the introduction acknowledging the traditional aboriginal owners of the area.
As around 70% of their guests are (normally) from overseas, this is truly global communication!
Saying no to motorised watercraft 
Viv and Kym have been firm on their stance not to include motorised boats on their tours, despite knowing it might bring them increased business. Instead, they continue to use sleek, locally handcrafted sea kayaks, which glide through the ancient waterways gently and peacefully without making a sound or polluting the water. Truly sustainable!
Protecting the Wildlife
 Clients are taught about the importance of Queensland's wildlife, educating them to overcome any preconceptions (and fears!) and understand why it is so worthy of protecting.

A 'Truly Sustainable' Mission
Kanu Kapers' aim is to provide a unique and awe-inspiring kayak adventure to people of all ages and to preserve the Noosa Everglades wilderness for future generation to enjoy.
This unique area is bursting with rare plant and animal species and is therefore best experienced by kayak as this protects & preserves the delicate ecosystem.
Our 'Truly' Sustainable Actions
Respectful of the cultural importance to Aboriginal People
No noise, only quiet respectful watercraft
Educate guests to 'tread lightly' and 'leave no trace'
Carbon offset scheme for clients which raises money for koala habitat
Plastic Free Noosa Champions – we've eliminated single use plastics
Refuse-Reuse-Recycle policy to reduce waste
We ask guests to sort their waste into labelled containers
We Red Cycle soft plastics
Family owned and operated
Professional guides who deeply care for the environment
Purchase local food & employ local staff whenever possible
Carbon neutral electricity
Locally handcrafted sea kayaks
Food scraps composted – and used to grow veg!
Policy to mend rather than throw out
Partner environmentally conscious businesses
Natural, plant-based cleaning products
Recycle stationary & ink cartridges
Our Ecotourim Awards

Our Community Campaign
In addition, we have whole heartedly supported local community campaigns to stop the development of the Everglades for higher volume and impact tourism. In 2017 owner Kym McGregor, successfully lead a campaign to stop the downgrading of the Everglades fish habitat. Today we are fighting significant plans to develop the entire area. We do not disagree with change; we just believe in doing in carefully and protecting the very few true wildernesses we have left.
Please click here if you are interested in supporting this cause too.
Further Reading
Useful Links