So many people ask us the question, "What is the Noosa Everglades"? It is thought the term 'Everglade' was first used to describe the extensive network of rivers and lakes in and around Noosa by tour guides but the extent of the Noosa Everglades remains undefined.
Although it may vary, an everglade is generally described in dictionaries as:
"A tract of low, swampy land characterized by tall grass and branching waterways".
Only two Everglades in the World!
There are only two everglades in the world – one in Florida and one near Noosa in Queensland, Australia.
Similarities between Noosa and Florida Everglades
Both are large, low, wet regions with branching waterways
Both areas have almost exactly the same latitude and climate
Both are home to abundant and rare wildlife
Both are home to rare bird species – 44% of Australia's birds can be found in the Noosa Everglades
Both are stunningly beautiful
The Noosa Everglades Catchment
The extent of the Noosa Everglades is not defined but if you compare the Noosa River system with the Florida Everglades system, the Noosa Everglades may include the Upper Noosa River catchment area, the Upper Noosa River, Lake Cootharaba through to Lake Cooroibah and into Laguna Bay – as well as Donella Lake and Lake Weyba.
Known as the River of Mirrors because of the amazing reflections in the water, the Noosa Everglades catchment is well documented to include a 65km stretch of pristine waters, magnificent flora and fauna and narrow waterways.
"One of the most pristine wetlands in the world".
Lonely Planet
Where is the Noosa Everglades?
The Noosa Everglades is in South East Queensland, 30 mins drive from Noosa Heads and 90 minutes rom Brisbane. The Everglades forms the gateway to the Great Sandy National Park which leads up to Rainbow Beach and Fraser Island. The upper, wilderness region is mainly accessed from the sleepy hinterland village of Boreen Point.
Are There Crocodiles in the Noosa Everglades?
The Florida Everglades is famous for alligators, so not great for kayaking! You'll be pleased to know that there are no alligators or crocs in the Noosa Everglades. It's very safe and makes for amazing kayaking and awesome wild swimming!
History of the Noosa Everglades
The Kabi Kabi Aboriginal people once graced this fruitful land, which it is said they defended passionately. Records suggest that the Kabi Kabi migrated less than other tribes due to the bountiful resources available to them here.
How to Experience the Noosa Everglades
As the Noosa Everglades is a pristine wilderness, we believe that visitors should aim to 'leave no trace' of their journey. So, we use kayaks rather than motorised boats to reduce our impact on the delicate ecosystem.
Kayaking the Noosa Everglades allows you to experience its' full natural beauty and abundant wildlife and totally immerse yourself in nature.
If you're looking to escape back to nature, grab your family, friends or colleagues and take to the therapeutic waters to begin your one day or overnight adventure on a memorable wellness journey of a lifetime…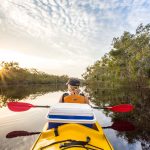 Links
Our One Day and Overnight Adventures >>
Blogs
Ultimate Noosa Everglades Weekend
Family Activities in the Noosa Everglades
Further reading
https://wetlandinfo.des.qld.gov.au/wetlands/ecology/processes-systems/water/catchment-stories/transcript-noosa.html
https://www.libraries.noosa.qld.gov.au/heritage/indigenous-history/
https://noosaparks.org.au/wp-content/uploads/2018/12/20151110-Historical-Ecology-of-the-Noosa-Estuary-Fisheries.pdf