It's difficult to feel like you can truly escape from it all these days. When planning weekends away can lead to disappointment, and travel options are kind of limited, how do you get away from it all to clear your head and really feel invigorated? We reckon we have the answer, and it's just minutes from Noosa! We believe that wellness defines the Noosa Everglades and that a trip to the everglades can help recharge your batteries and set you back on track. Here's why…
What is wellness?
All this talk of wellness! So, what is it exactly?
Wellness is considered to be achieved by a combination of emotional, environmental, mental, physical, social, and spiritual health. The Cambridge Dictionary defines wellness as…
"The state of being healthy in body and mind, especially as the result of deliberate effort". 
In essence, wellness is what makes us feel good and for many of us, that involves getting back to nature with people we enjoy spending time with. So, getting active and immersing yourself in the Noosa Everglades water wilderness could be the key.
What is the Noosa Everglades?
The Noosa Everglades is a stunningly beautiful, ancient water wilderness. It comprises lakes and therapeutic, tea tree lined waterways which are perfect for a refreshing swim. It's also full of rare bird and plant species that you can't find anywhere else.
So, it really is the perfect place to immerse yourself in nature and leave the world behind.
Ummm…and what exactly is an everglade?
How many times have we been asked the question – "What is an Everglade?"
So, here you go: "The definition of an Everglade is a tract of low, swampy land characterized by tall grass and branching waterways".
Check out Kym's blog 'What is the Noosa Everglades', for more info on that.
Where are the Noosa Everglades?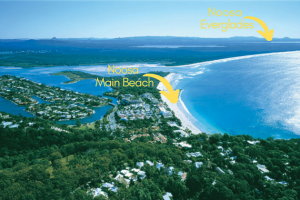 Although you may feel like you're in a distant land, the Noosa Everglades aren't as far as you think. The Everglades comprise the Upper Noosa River and lake system. Driving time is about thirty minutes from Noosa and an hour and a half from Brisbane.
Access to the Everglades is normally from the pretty hinterland village of Boreen Point, where there's a picturesque old wooden goldrush pub and lush beer garden to refresh yourself after your adventure.
The Noosa Everglades are part of the Cooloola Recreation Area ,gateway to the Great Sandy National Park and Fraser Island.
Paddling the Noosa Everglades
We believe (we would!) that paddling the Noosa Everglades is the only way to ensure total immersion in nature, maximum wildlife viewing and minimum impact on the pristine environment. There's a certain feel-good factor associated with paddling rather than traveling in a motorised boat. You can be safe in the knowledge that you are leaving only ripples behind you and that you aren't harming the delicate ecosystem. Oh, and the wildlife sightings are awesome, because no one can hear you coming!
So, maybe it's time to focus on YOUR wellness in the Noosa Everglades?
Want to know more?
Check out our Ecotourism page to find out more about how Kanu Kapers look after the environment.
Visit Noosa – Noosa Everglades
Blog – Wellness Wanderer: Visit Noosa
Blog – Family Activities in the Noosa Everglades
Call us:  07 5485 3328